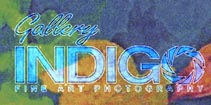 Welcome to Gallery Indigo, the on-line exhibition space for creative works by Steven Halperson and Nina Tisara.
These limited edition photographs are hand-signed and numbered by the artist and are available for framing up to 40x60.
All images are copyrighted by TISARA INC. Photography. Please call us for information on publication rights.